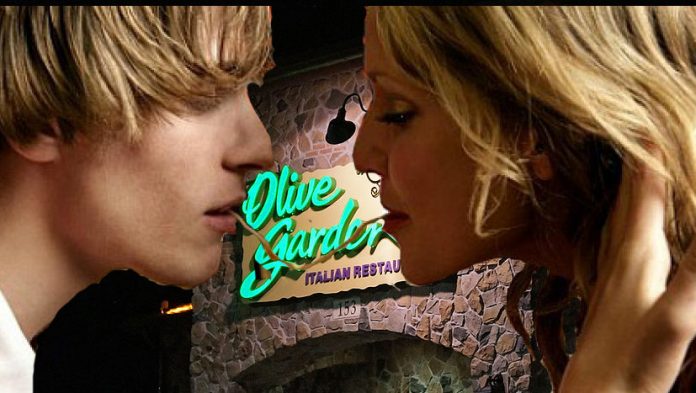 When many people think of the Olive Garden, they think of an elegant Mediterranean escape from our everyday stressful lives. But as reality would have it, the Olive Garden is actually a vagina heater. When you bring a vagina to the Olive Garden, you reek of class and sophistication and a passion for endless ruffage and gluten.
Applebee's will offer you a happy hour menu that displays calories. This is great if you want to avoid being fat. This is awful if you want to appear to be any kind of a fun person. Fun people eat fried calories filled with glutens and sugar. Once your girl sees that you are ordering from the low calorie menu, she will then in turn, have to order from the low calorie menu, which is certain to place her vagina in a deep freeze.
Maybe it's our anniversary. Maybe this is a first date. It doesn't matter. Here's a comment I found on Facebook. The privacy settings on the original post were private, so I pulled it down for you. This is information every man should know.
How to get vagina to want you by taking her to Olive Garden.
I'd start the experience while wearing a fedora and slowly walking down the Tuscan inspired entry walk until I reached the gates (doors) which guard some of Italy's closely guarded Italian recipe secrets.
I would immediately request that the host or hostess come and find you at the bar "when your culinary, Mediterranean journey" is set to begin. Note to them that you'll be sipping fermented grapes both young and new while the lyrics of Giacomo Leopardi echo through your head. If with a girl, you approach the bar and sing out "amore, a jug of vino would please me! and then turn and french kiss her across the renaissance inspired bar.
When the hostess calls your name, don't rush, be idle and cool in the presence of some of the finest Italians your region has to offer. Don't fret at the sounds of children cursing and shitting themselves: they are family. And so are you once your buttocks meet that fine Italian olive lumber that will be your home for the next 1.5 hours.
With jug of vino in hand, order a pasta fagioli for your man-self and a light minestrone for your female companion. This will loosen up the love organs for both you and her.
When the breadsticks hit the table, gently remove the cotton dinner napkin's top fold as if you were tuning an antique violin, or uncovering the world's greatest hidden secrets of youth and pleasure. You don't want to be seen as rushing or gorging with immediacy, as the other true Italians might see you as a man without a gentle hand of patience and artistry. When the breadsticks reach their inevitable end, have your Italian server scamper to the back and refill your pleasures. Remember, your waiter might be so Italian that they don't speak English, so a quick wave with your hands signifying they should run to the kitchen for more breadsticks does the trick. Your server will be happy to do this for you!
At this point, order yourself a prime cut of Italy's finest lasagna. This lasagna, which will soon be your delicacy, is sitting in dried ice inside an authentic wooden creight just arrived from the motherland. You should order your girl the chicken piccata, which features sundried tomatoes imported directly from an old Italian grandmother's garden. It is customary that your girl alert the server that it is your birthday and that you get a free Italian dessert. Your server will be thrilled by this and immediately prep all the other servers to sing you "Happy Birthday" in Italian. Your girl will also feel a rush of energy telling such a fib and will quickly perceive you as a "bad boy." Most people are too afraid to lie about their birthday in an Olive Garden, so this will make you a bad ass.
Your night will end with fraudulent birthday bliss, breadsticks to go, and a girl impressed with your being a man of culture and sophistication and intrigue. When you arrive home, you will deliver her vagina the last breadstick of the night. Believe me, her vagina will be primed and receptive. It's been slow roasting in your sweltering manliness and class all night.
Comments
comments