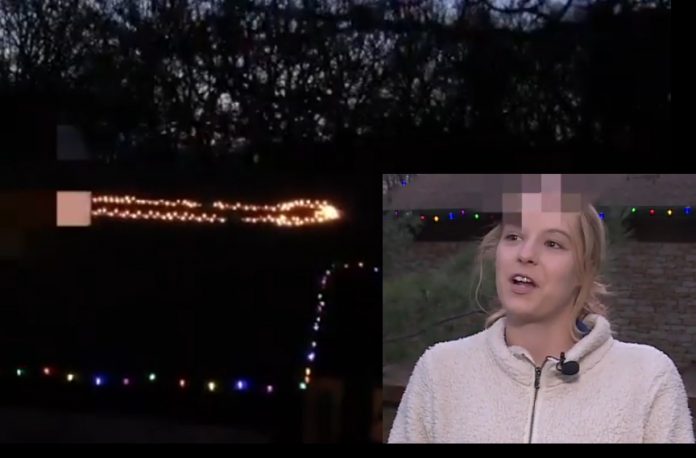 The only thing more spiked than the eggnog your holding right now is this ball-warming story about a girl and her lighted dick.
Yes, really.
A 24-year-old suburban Kansas City, Kansas hottie threw up a big lighted dick on her roof. While you might assume such holiday spirit was gleefully received, neighbors in the ritzy whispering hills neighborhood instead lambasted Shelby Gash's erotic, inspiring, gigantic cock sleigh strip.
Fellow neighbor, Marcelo Vergara, said Gash's Santa cock was "certainly a statement."
He also said it was "probably not appropriate for the neighborhood."
Marcelo's wife called it a "joke that wears out pretty quick."
We aren't particularly certain that the Christmas cock was, in fact, a tribute to Santa's cock. It may well have been a superimposed elf cock. Or just random Christmas cock.
Whatever the case, Gash vehemently disagreed with the Vergara's assessment of her dashing, erotic display.
"People think it's so much fun. I think there's a lot more laughter than it's bringing out anything uncomfortable."
Gash has since torn down her lighted cock from the roof. We mean, the cock lighted display, not her actual cock. We don't think she has an actual cock. That said, she's pretty damn hot, so either way…we'd enjoy a moment under the mistletoe with her, no doubt.
Comments
comments