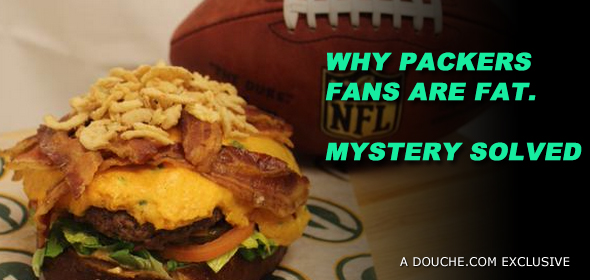 Maybe you've been sitting at home watching a Packers game and thought, man, those fans are sure super fat, I wonder why?
Well, the pain of your wonderment ends here with Darren Rovell's tweet about the Green bay Packer's "Big Game" burger.
Compare: Packers new "Big Game" burger next to an official NFL ball pic.twitter.com/wrl12nt2tK

— Darren Rovell (@darrenrovell) January 6, 2015
5000 calories of shit piles. Safe to say that Packer's fans aren't exactly Paleo (which is fine by us).
The physiological science here is that basically you eat a pile of fried shit in a 5 pound bun that's larger than an actual game day football and your body fattens the F' up. Humanitarian drops in war ravaged African nations over the course of a year don't provide one Packers fan eats in one sitting. This may also explain why the Packers don't have cheerleaders.
Now, before we get ahead of ourselves, one must consider, what the hell else would you do in Green Bay outside of eat half the world's supply of flour? I mean, check out this morning…
When your current temperature isn't even a degree, the only option probably is to eat shit like this.
Green Bay is also on the forefront of all things fashion.
Green Bay Packers Tailgate Camo Shorts – Green/Gold #Ebay #NFL #Christmas #Gift #Greenbay #Packers http://t.co/Xy3Jbx2Asu …

— The NFL Hotline (@TheNFLHotline) December 31, 2014
Go Packers. I guess.
Comments
comments