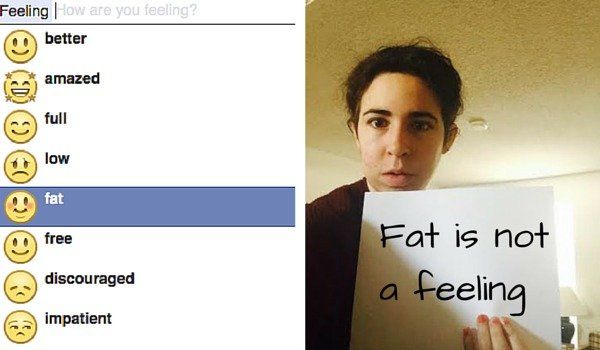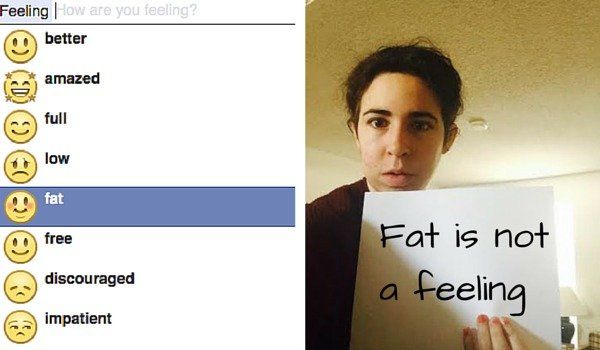 The world is full of saps. Like pathetic pussies who have nothing better to do than petition all things that make them sappy sad. And this falls right in as another wonderful example of this shittiness.
From (TheVerge) Facebook this week removed a feature that allowed users to tell their friends they're "feeling fat," in apparent response to an online petition that garnered more than 16,000 signatures. The "feeling fat" emoticon had been among the lengthy list of feelings and activities that users can include when updating their statuses, alongside the likes of "blessed," "loved," and "drunk." Supporters of the petition argued that "fat is not a feeling," and that by including the smiling, double-chinned emoticon, Facebook was "encouraging negative body image among girls." The company removed the emoticon on Tuesday.
"We've heard from our community that listing 'feeling fat' as an option for status updates could reinforce negative body image, particularly for people struggling with eating disorders," Facebook said in a statement Tuesday. "So we're going to remove 'feeling fat' from the list of options. We'll continue to listen to feedback as we think about ways to help people express themselves on Facebook."
"I FEEL SO HAPPY THAT I'VE HELPED ELIMINATE ONE FORM OF BODY SHAMING HATRED ON THE INTERNET."
---
Oh Jesus please shut the fuck up immediately. Have we become this much of a total pussy society? Don't these people have fucking jobs or what? You started an online petition to remove "feeling fat" from Facebook because you decided that "fat is not a feeling." Well listen asshat, fat is a feeling, I would know, I've eaten chinese food before. Have you seriously never eaten at a Panda Express? FAT IS A FEELING. 
Comments
comments