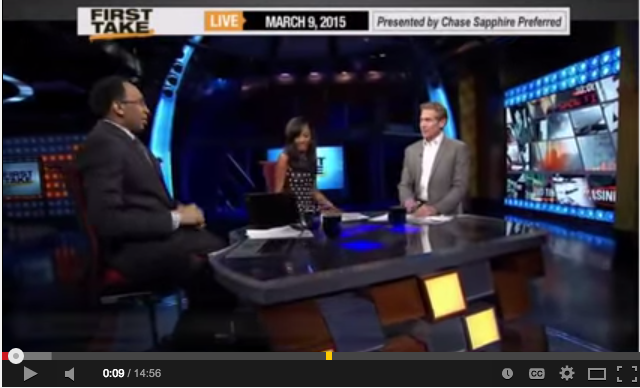 I have a theory. If you are always crying racism, well then you're the racist.
This week, the Philadelphia Eagles made headlines by trading LeSean McCoy to the Buffalo Bills for Kiko Alonso, and then failing to hold on to Jeremy Maclin who now plans to sign with Chiefs. They were also reportedly going to pick up Frank Gore from the 49ers, but it has been reported he turned it down.
Stephen A. Smith analyzed the moves and here is what he came up with: Racism. Of course, why the hell not? Kiko Alonso is white, LeSean McCoy is black. So there you have it, completely sensible.
I mean, some might surmise that Eagles Head Coach Chip Kelly really likes Kiko Alonso because he coached him at Oregon. SOME might even stupidly think that in Kiko's first year at linebacker, he was a f'ing monster at the position with a ton of upside. Others might say, well, RB's are not the highly focused position they once were and the Eagles spread offense could use a lot of RB's in the same spot and turn them into stars. A handful of assclowns may think , "hey, the Eagles needed to get better at stopping the run and McCoy had an uber large contract."
Thankfully Stephen A. serve us at the voice of reason by realizing the Eagles true strategy: cull out black athletes. That's right, turn the Eagles into a picturesque white plantation owning team with all white players throwing beautiful white footballs talking about white Oscars winners and country music.
Starts at 1:43 mark Skip Bayless will run through the transactions. Then the Smith logic shits the bed for us.
"I'm always in Philly, and I'm telling you right now, you got people walking the streets — hell with it, you got brothers walking the streets, going like this: 'What's up with Chip? I don't understand it, I really don't understand why.'
"Now I'm not saying I know, I'm just going to say that it does strike me as a tad bit odd," Smith continued. "I'm going to repeat this: Gone — LeSean McCoy, Jeremy Maclin, DeSean Jackson. Staying — Riley Cooper. Really. Really. Okay."
http://youtu.be/-8zb3sMxeZM?t=1m45s
Of course he left out the attempt to sign Frank Gore, who is black.
If anyone thinks that the Eagles are sitting around trying to build an all white team, you should dive face first into a pool of acid.
Comments
comments