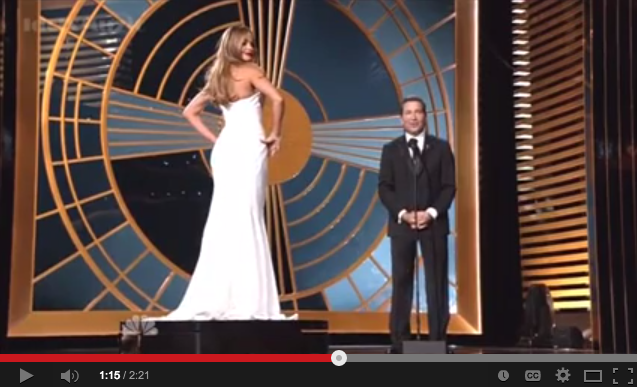 It was all that was missing in this poorly planned, humorless scripted act at the Emmy's last night.
Oh no, I don't care about the sexism aspect. People need to lighten the F' up (or maybe harden the F' up). I care that the only thing I could think of was "who left out the stripper pole?" How does one forget the essence prop of a slow spinning table?
Haterz gonna hate though.
agrees to be part of these sexists jokes. SHE agrees to do things that pad her pockets, but set us all back 50 yrs. #SofiaVergara

— Yirssi (@Yirssi) August 26, 2014
The question I have is WHY would she agree to do it? #SofiaVergara

— Nancy (@RightDame) August 26, 2014
Women have come 2 far for this: #SofiaVergara bizarre, objectifying Emmy moment. #demeaning http://t.co/ZsJcwpPWJI

— Barbara Wortman (@campbabs) August 26, 2014
#SofiaVergara ~ Was Literally Put on a Pedestal in a Completely Sexist Bit ~ #attheEmmys ~ ~ ~ http://t.co/2wj4K0fAk7 via @TIME

— Vincent Menezes (@vincentmenezes) August 26, 2014
Comments
comments