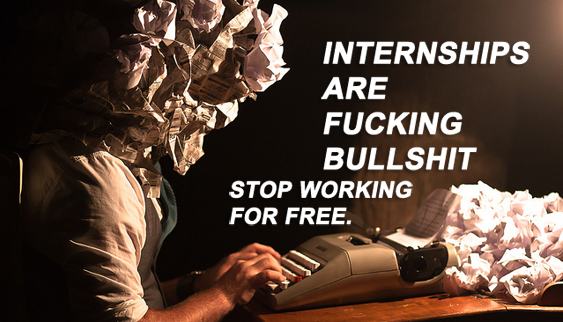 This article points out writers, but really, it goes for most of the scammy ass "Internships that have cropped up all over the web in a bad economy. No one should work for free, unless it is for your 70 year old mother, then it is fine. Otherwise, it's total shit.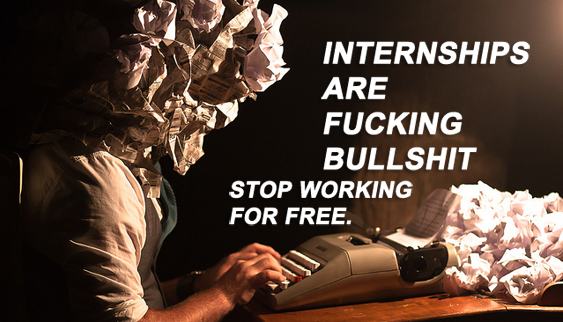 The idea that writers deserve to be paid is debatable. The problem with saying that, however, is that debating it is fucking stupid seeing that writing shit is a goddamn job. The job is called "writer." I don't care where you are asked to write something, when you start writing, you are fucking working and should be paid.
So then why do we constantly see job ads such as this gem posted online?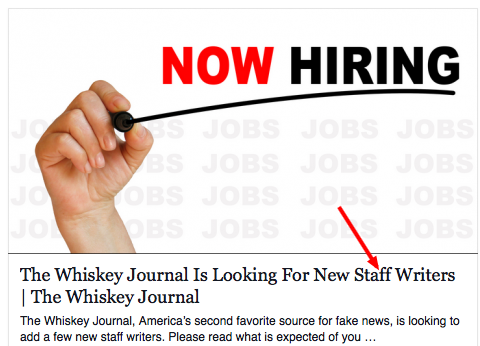 They are looking for "New Staff Writers." If you are a writer looking for a job, maybe even a person who hasn't had a good opportunity in a while, you are probably like, "fuck yeah, that right there sounds like some executive writing shit right there! I will be dropping my The Whiskey Journal business staff writer card in front of bitches at Cheesecake Factory, sipping on martinis, and then doing the dirty after the avocado egg rolls are digesting with some amazing milf!"
Oh but wait my desperate writer friends, this shit gets so much better! Let's check out some info about the place!
(via thewhiskeyjournal)

The Whiskey Journal, America's second favorite source for fake news, is looking to add a few new staff writers. Please read what is expected of you as a writer for TWJ below before applying. Even if you have submitted articles that we didn't take before, you should apply, if becoming a part of the TWJ team is something that interests you. Please understand that this is a time commitment and as a TWJ writer you'll be expected to do all of the things below.
Fake news? Wait, what? Ok, just a little speed bump here my friend! Remember, I am going to be a bad ass STAFF WRITER! They have expectations and an application process! Can't you just envision that Human Resources lady and her fax machine just waiting for my sweet ass writing resume to dial through!
So now let's find out what the fuck I'll be doing!
-Pitch new ideas to the group and participate in feedback on your own and other writer's ideas.
Fuck yeah, I will be a collaborating machine bitchez! I'll be your Chewbacca and you can be my Hans Solo! I will be your Thelma to your Louise! I will be your wingman with a bottle of Valtrex!
-Write a minimum of two articles per month.
Wait, staff writers only doing two articles per month? Oh wait, I bet these are more like investigative fake news stories, deep dives into fantasy, cloak and dagger shit!
–Be able to work within deadlines.
I am a deadline master! I almost always see the end of the movie I am about to see because I'm at the movie that fucking early! I don't HAVE sex, I HAD sex, that's how fast and timely my ass is!
-Deal with someone editing your sweet, precious art.
I take criticism like a champ! I was once a contestant on one of those Japanese ball busting game shows. I fucking won.
-Share the article from each weekday on your social media.
Oh wait, so like you mean I am supposed to post my articles that I write as a Staff Writer from this amazing investigative fake news site on my Facebook? Hey bro, put down the lube, you don't need it anymore, you are fucking romanced all up in my beautiful ass now!
-Not be a total dickhole to work with.

None of these expectations are negotiable. If you don't think you can handle not being a dickhole or sharing other TWJ writer's articles on social media, please do not apply.
Wait, pump the breaks bitchez….. so I am supposed to post ALL the articles, not just my fantastic, deep dive, investigative – super model vagina wrapped pulitzer prize – articles? Well that seems weird, but still, me fucking a milf from Cheesecake Factory:  A Staff Writer! I guess my Facebook turning into a Fake News Spambot can be tolerated in exchange for such a bad ass opportunity!
Ok fuck it, let's move on…
TWJ isn't just boring rules and regulations though. As a staff member of TWJ, you'll have your articles viewed by thousands of people (we've already had nearly 500,000 pageviews in 2015), be able to create, write, and perform content for our live show, and have the ability to start your own projects (podcasts, videos, etc) and publish them through our already established web presence.
So when you say "thousands of people," do you mean the other writers' Facebook profile friends who got spammed by clickbait fake news stories? And I am not sure I want to "perform." Fuck is this porn?
Ok, let's finish this amazing ass Investigative Fake Journalism Deep Dive Pulitzer Prize Dildo Staff Writer job description up. What exactly do I do to win a place amongst elite "Staff Writers?"
Please email your application to thewhiskey[email protected] and include the following in your application (send application as a PDF or just written in the body of the email, no attached word documents, please):

-10 potential TWJ headlines (try to keep them within 5-10 words)

-One full article using one of those headlines (try to keep it within 250-500 words, read some of our articles to see what it should look like)

-Any related writing credits or specific reasons you'd like to join TWJ

-Any skills you possess other than writing that could be useful to the team (i.e. video editing, marketing, photoshop, social media, ability to sell ad space, etc.)

-Do you have a reference on the TWJ staff already? Mention them! If you don't, that's cool too. You certainly don't have to know anyone to get a job here.
Ok ok bros! I can do all this! Now, let's get to the fun part!
So what does it pay bitchez?
FAQ

-Does this pay? No, but if it makes you feel better, no one is making any money from TWJ. 

-Do I have to live in Chicago to apply? No.

-Can I have a hug? Yes.
Do you hear that? That's the not so uncommon sound of vital air leaving a drunken human body for dead while a laptop lay resting in sleep mode on its thighs as a Craigslist hooker bangs away at the door. NOT GOOD.
So basically, I will write articles for you. I will create numerous headlines for you to test clickbait success. I will be on fucking time like a shark to a human chum party. I will, and wait for it….it's coming…..POST MY ARTICLES AND EVERYONE ELSE'S ARTICLES FROM YOUR SITE, TO MY OWN FACEBOOK PAGE, SO THE SITE CAN GET TRAFFIC AND YOU CAN MAKE MONEY?
Oh wait, you said no one there makes money, which as appealing and depressing as it sounds, seems super fucking silly. Why?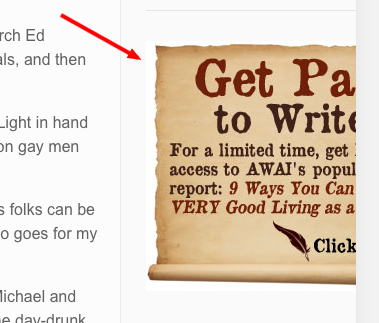 Dear Bitchez, that's a fucking ad on your site. That's Google Adsense. It's advertising a product called Irony.
So you are telling me that this piece of shit blog will cost more in server expenses than it will earn in Google Ad revenue even after all of us "Staff Writers" share shit on our Facebook pages? Come on now…you said you have gotten 500k in page views this year. If Google Adsense paid you a shitty $2 CPM, wouldn't you AT LEAST have $1k? Fuck, wait, you have Staff Writer expenses. Oh shit, you don't! Do you guys have an office with a chef? Are you matching 401Ks? Is this site being hosted by the Rulers of the Seven Kingdoms?
But wait, there's more!
(via Business Insider) Facebook is cracking down on hoaxes, scams, and "deliberately false or misleading news stories," the company announced in a blog post.
Oh, so now my pea brain is getting it! You want me to share fake news stories on my Facebook profile, of articles I wrote, using a series of headlines I wrote for you to test Click Through metrics on, and be on time doing all of this, for fucking free.
Applications turned in after midnight on June 11th will not be accepted. 
This is fucking fantastic, they create a job application which makes it appear you are going to be writing instructions for weightlessness and moon rock storage for NASA astronauts, then they arrogantly throw in that you won't be paid, they want you to spam your Facebook against Facebook TOS, concluded with a fucking deadline. A deadline, which by the way, is total asinine bullshit.
Like why on earth would they not take a legit writer who is dumb enough to work for free, provide traffic and generally be shit house dumb if they submitted "an application" after the Midnight on June 11th? Wait, I wonder if they have some fucknuts hanging out manning the emails at 11:50pm waiting to cut off all writers who slummed it thinking they MIGHT find a better opportunity than this one which offers them NOT ONE REDEEMING BENEFIT!
Has anyone ever heard of Runway and Miranda Priestly? Even they pay people for doing work and they are like, fantastic and huge and glittery and rainbows and stripper vaginas!
If Miranda Priestly pays people for work, shouldn't The Whiskey Journal kick a few bucks and a  can of soup over to some poor soul for showing up on time, writing multiple headlines, a fake article and posting it to their goddamn own Facebook page? (By the way, asking someone to post something to their Facebook page is like asking a girl to stick a random GI Joe figurine you found at your cousin's house inside of her vagina so you can video it on to your Razr phone, it is gross and completely self serving. )
But the bigger story here is, why do writers write shit for nothing and why do shitty websites expect writers to write for nothing? The simple answer here is, because there are enough writers out there who think writing for free offers them some sort of benefit, an addition to their resume, or some credibility. So let's talk about this.
Internships have been alive and well since the dawn of the industrial age. The original idea of an internship was to exchange experience for a recent College or High School grad for mediocre labor. This system works because a lot of graduates have problems getting experience needed to find good paying jobs. The problem is that now, it is widely abused and worse more, you fucks are still falling for it.
If you search Craigslist, you will find tons of jobs, just like the one listed above, that try to connive a desperate person into thinking that "experience" and "exposure" can be exchanged for labor. This isn't fucking true. At all. Think I'm wrong? Go to Taco Bell and order a bean burrito, then offer the register bro a print out of your bullshit fake news article from The Whiskey Journal as payment. Know how that ends? You with NO BEAN BURRITO.
The job market is full with desperation and the sharks are feeding. Don't be chum, folks. If Dicks Sporting Goods offers you an internship, hey, not bad. But when dumb fucking Internet sites offer you jobs without pay, the only experience you reap is the experience of being a complete dumb ass.
Wanna write for free? Get your own goddamn site, blog, start writing, put on ads, post your links on your social media. A website name cost $11 most, the blog software is free, hosting is free for startup sites. Don't be a goddamn idiot though. When you work for free, you encourage everything that isn't capitalism.
Remember, it's the "free writing" jobs which will come with the most stipulations and terms. "Free writing jobs" will make it seem like a privilege to write for them, require a masters in Botanical Particles and essentially make you seem unworthy of the job, so that right at the moment they tell you it pays nothing, you feel like you want to do it anyways. They are pretty much the same as Scientologist. Would you become a fucking scientologist? Then don't write for free.
Feature Photo Credit Drew Coffman | Creative Commons
Comments
comments